Field Robot Demo (Tue. 14th – 9:00-12:00)
Robotic platforms will be demonstrated on the field, ranging from research platforms from companies, universities or research stations up to commercially available machines.
BOSCH Deepfield Robotics, Germany
BoniRob
The BoniRob is an agricultural robot that can conduct autonomously repeating phenotyping tasks for crop stands and even for individual plants. Furthermore, it can be used as a carrier, supplier and base for multiple BoniRob-Apps. Current apps are (i) phenotyping, (ii) penetrometer and (iii) precision spraying.
Naïo Technologies, France
Oz 440
The Oz is a standalone tool that combines efficiency and ecology, it is able to assist growers in the most arduous tasks: mechanical weed control and charge transport at harvest. It is small, so it operates directly between the rows for precision work. Oz is able to run on all your fields, regardless the type of soil and it can weed between the rows and on the row of crops, thanks to its precision tools and to the regularity of its work. With Oz you save time and weeding is no longer a constraint or a tedious task.
Bayerische Landesanstalt für Landwirtschaft (LfL), Germany
i-LEED
The i-LEED optimises the feeding of cattle on pastures and the management of the pasture through introduction and fusion of innovative tools like a mulcher and seeder as well as the necessary sensors for pasture care. The pasture robot shows stable movement even under difficult terrain conditions.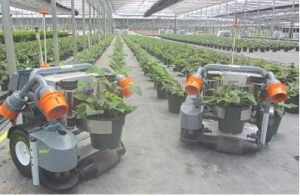 University of Applied Sciences, Germany
HV-100 Harvest Automation
The gardening robot HV-100 is designed to perform material handling tasks in unstructured, outdoor environments such as those typically found in commercial growing operations.
The robots require minimal training to operate. A demonstration of the robot will be given by the University of Applied Sciences Osnabrück (Germany).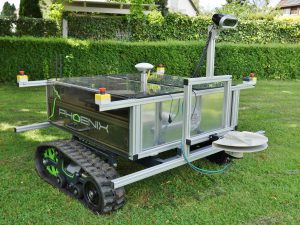 Hohenheim University, Germany
Phoenix
The Phoenix is an electro-powered robot designed for agricultural use like scouting, mapping and weeding. Furthermore, in research it is used as an autonomous sensor platform to develop new sensing systems and in teaching to allow project work with autonomous vehicles.
A special 3D-frame attached to the machine allows plant individual treatments within crop management according to Precision Farming principles.